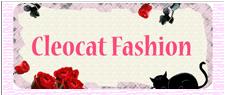 Basic Introduction to Cleocat-Fashion.com
They actually selling alot of things but it has to be 15pieces (Clothings) for each mini spree.
So This is a mini spree started by me for all those who are unable to meet the minimum requirement of 15pcs but wish to purchase.
I will arrange and make the order when the 15 pcs limit had been met & I will charge a profit of $3 on top of  the amount of the item.
** Only Meet-up will be done **
** No cancellation will be allowed after money had been transferred. **
Ordering Procedure
1) Send an email to CMLoves.SHOP@hotmail.com with the format : -
Name :
Contact Number :
Address :
Items Name :
Items Link :
2) An invoice will be sent to you regarding tha payment details.
3) Please transfer the amount within 48 hours.
4) Take a photo of the receipt and attached it to the email & send it over with your order code, total amount plus the choice of meet up.
Meet up Timing / Venue
Mon, Wed, Fri & Sunday   :  To Be Confirmed (TBC)
Tuesday & Thursday         :  Around 7pm @ Dhoby Ghaut MRT / 7.30pm @ Bishan MRT
Saturday                          :  From 2pm onwards (Venue TBC)
All other timings / Venue  :  TBC
Thank You & Have a Pleasant Shopping Trip ~